It's finally time to go on that family trip you've been looking forward to for months, you just need figure out how to keep the kids entertained through the flight… Well, lucky you've booked with Virgin Atlantic. We've loaded our aircraft with everything kids love. Boredom is banned. From TV shows (yes, including Peppa) to dinosaur pasta, in-flight cots to car seats, we've got you covered to make flying with little ones as smooth as possible.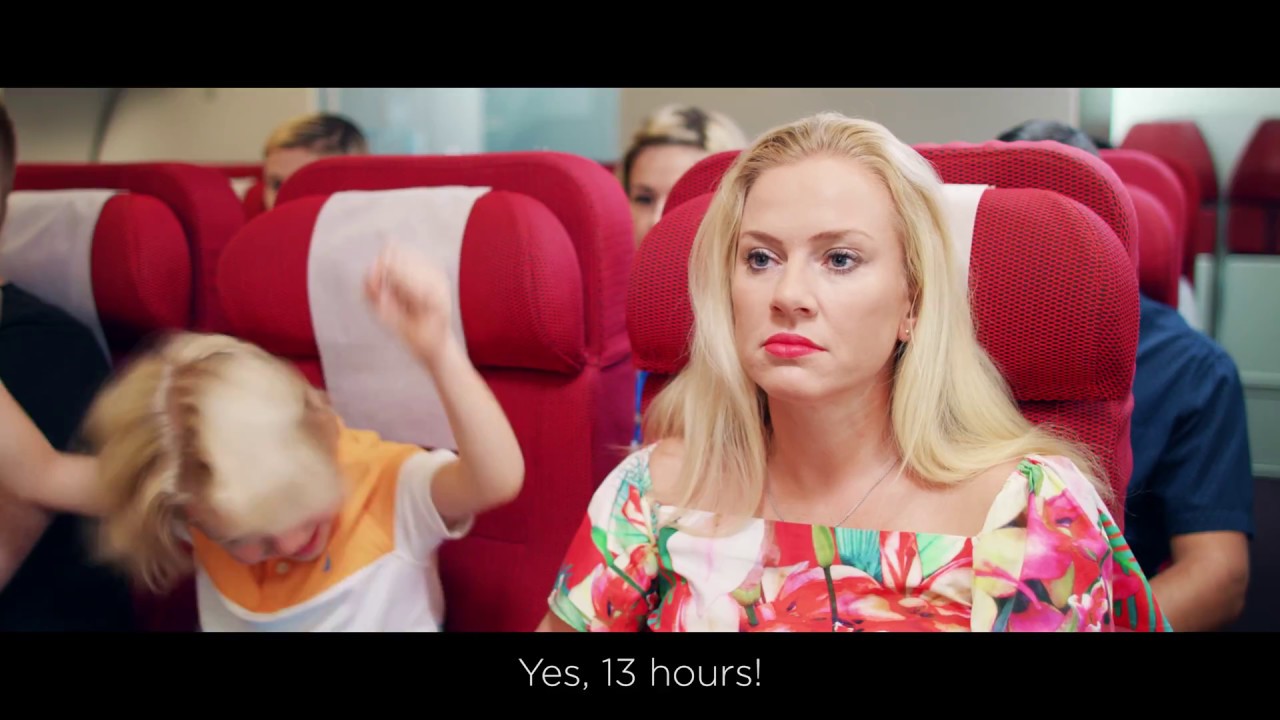 Flying with kids | Virgin Atlantic
Inflight entertainment
With a huge range of children's films and TV shows on offer, your children will be busy enjoying themselves from pre take-off right up until you step off the plane. That's sure to take some of the strain out of family travel.
Once at the gate we'll hand out KiD backpacks, bursting with goodies to keep them busy while you board and settle in.
On all flights your kids can choose from movies, TV and games suitable for all ages. And if they've got their own seats, they'll have their own TVs too.
Parental lock functionality is available on all aircraft. Please ask a member of cabin crew at the start of your flight if you need any help setting it up.
Tab Panel
What's playing for kids this month?
We've got the latest movies and entertainment for kids that you'll love too!
Inflight entertainment

Kids meals
We've created our kids' menu with the fussiest child in mind and includes a variety of familiar dishes that are sure to tickle their tastebuds. The crew are also regularly on hand with drinks to keep you and your little ones refreshed.
Baby meals - specifically for little ones under 12 months, which include standard pureed or bottled foods (no solids).
Children's meals - We make sure to treat your little ones for good behaviour and offer them ice cream, jam sandwiches, fresh fruit and dinosaur pasta to add some fun to in-flight mealtimes. Specifically for our younger passengers aged 12 months to 12 years old which are nutritious, easy to eat and nut friendly. This means that while they don't contain nuts, they're not prepared in a nut free facility so may contain nut traces.
Kids meals aren't vegetarian. If your young one is a veggie they should go for the standard vegetarian option rather than a kids meal.
Children's meals aren't booked automatically, and need to be ordered online at least 48 hours before you fly. You can order a kids' meal through My booking as soon as you book your tickets, or you can call us on 0344 874 7747. Please note meals can't be booked for unseated infants.
Seats for children
Planning your seating
We need to make sure that each child in a car seat is supervised by a guardian aged at least 14 who is sitting right next to them. If you've got two children in car seats, you'll need to have them either side of you.
Special assistance
If you need special support seating for disabled children, take a look at our information on support seating.
Car seats
If you're travelling in Economy, you can bring your own car seat as long as it meets the standards below and you've booked a seat for it.
These products can't be used onboard:
CoziGo
FlyTOT/Playing Pal
Skybaby
Bedbox
Fly legs up
Bringing your own car seat

, 1 of 1
Flying with babies
Flying with a baby doesn't need to be stressful, even if it's just you and your little one.
Our baby-friendly cabin crew will be on hand to help throughout your flight. We offer specially designed in-flight cots, we'll warm milk for you, and some of our toilets include changing facilities to help you along the way.

International flights
Your baby must be healthy and at least 48 hours old to travel on Virgin Atlantic international routes.
Baby milk
Cow's milk, formula and water (to make formula up) are all allowed on the aircraft.
They must be in baby bottles or cartons, not bottles from the supermarket or flasks etc.
They can be over 100ml, but only up to a reasonable amount that's necessary for the flight.
Whenever you need milk warming up, just let the cabin crew know and they'll be happy to do it. They'll always do it properly too – by warming it in hot water then leaving it to cool.
Baby meals
If you are travelling with an infant that does not have an assigned seat a meal will need to be requested in advance by contacting us on 0344 874 7747.
In-flight cots
To make our flights comfortable for your baby (and peaceful for you), we offer in-flight cots free of charge. For your baby's safety, we don't allow them to be placed on the cabin floor. The cabin crew will install the cot for you after take-off and advise you if your baby will need to be removed from the cot and secured on your lap should there be any turbulence.
Sky cots must be requested in advance by calling 0344 874 7747. There is a limited number of sky cots offered on a first come first served basis.
The cots have slightly different dimensions depending on your aircraft. To check your baby will fit comfortably in the cot that's on your flight, see the dimensions below.
Please note there are no in-flight cots in the Upper Class cabin on B747-400 aircraft operating to or from Gatwick or Manchester.
Economy and Premium Economy sky cots
| | Boeing 747-400 | Boeing 787-9 and Airbus A330 |
| --- | --- | --- |
| Dimensions | 35cm wide x 21cm deep x 74cm long (13.8" wide x 8.3" deep x 29" long) | 28.6cm wide x 72.7cm long (11.25" wide x 28.6" long) |
| Maximium weight of baby | 9kg (19.8lb) | 11kg (24.25lb) |
| Maximium height of baby | 740mm (29") | 760mm (30") |
Upper Class sky cots
| | Boeing 747-400, Boeing 787-9 and Airbus A330 |
| --- | --- |
| Dimensions | 35cm wide x 24cm deep x 76cm long (13.8" wide x 9.4" deep x 29.9" long) |
| Maximium weight of baby | 11kg (24.25lb) |
| Maximium height of baby | 750mm (29.5") |
Pushchairs and car seats
When travelling with children or infants, you're welcome to bring one fully collapsible pushchair and a car seat, in addition to your free checked baggage allowance. Please note that pushchairs will fly in the aircraft's hold. Car seats can be used on board (in Economy only) if they meet the necessary requirements. These can be found in the above section seats for children.
Pushchairs may be checked in or used up until the boarding gate. On landing, whenever possible we'll have your pushchair ready and waiting at the aircraft doors. However, you may have to reclaim it at the baggage hall, due to local customs restrictions at some destinations.
Children flying alone
Can children fly alone?

, 1 of 3

Organising a flight for an unaccompanied child

, 2 of 3

Unaccompanied minors travelling into, out of or via South Africa

, 3 of 3