You are here on our website:
Level 4: Your current page is

Flying with children
Fly with babies, children & young adults
Tips, tricks and advice for travelling with the family
If you're flying with a baby, child or young adult, here's what you need to know before you go. You'll need to make specific arrangements for meals, seating, cots and pushchairs. Read this guide to find out how.
If you're flying with your little ones, we'll do everything we can to keep them happy while they're onboard. Boredom is banned. For the fun stuff, have a look at our inflight entertainment that's just for kids.
Got a question about kids baggage? Children and seated infants get the same allowance as grown up's. You'll find all the info in the baggage section.
Booking onto a flight
Infants: We count any baby or toddler up to the age of 2 as an infant. You can travel with an infant on your lap, or for a longer journey you may wish to request a cot.
Children: We count any young person between the ages of 2 and 11 as children. They will need to have their own seat, which means you'll need to book them onto your flight. You can do this online.
Young adults: Young adults are between 12 and 17 years of age. You can book seats for them online.
Be aware if you're travelling to South Africa: you need to follow a set of strict immigration guidelines in terms of the paperwork you need to be able to show for your child.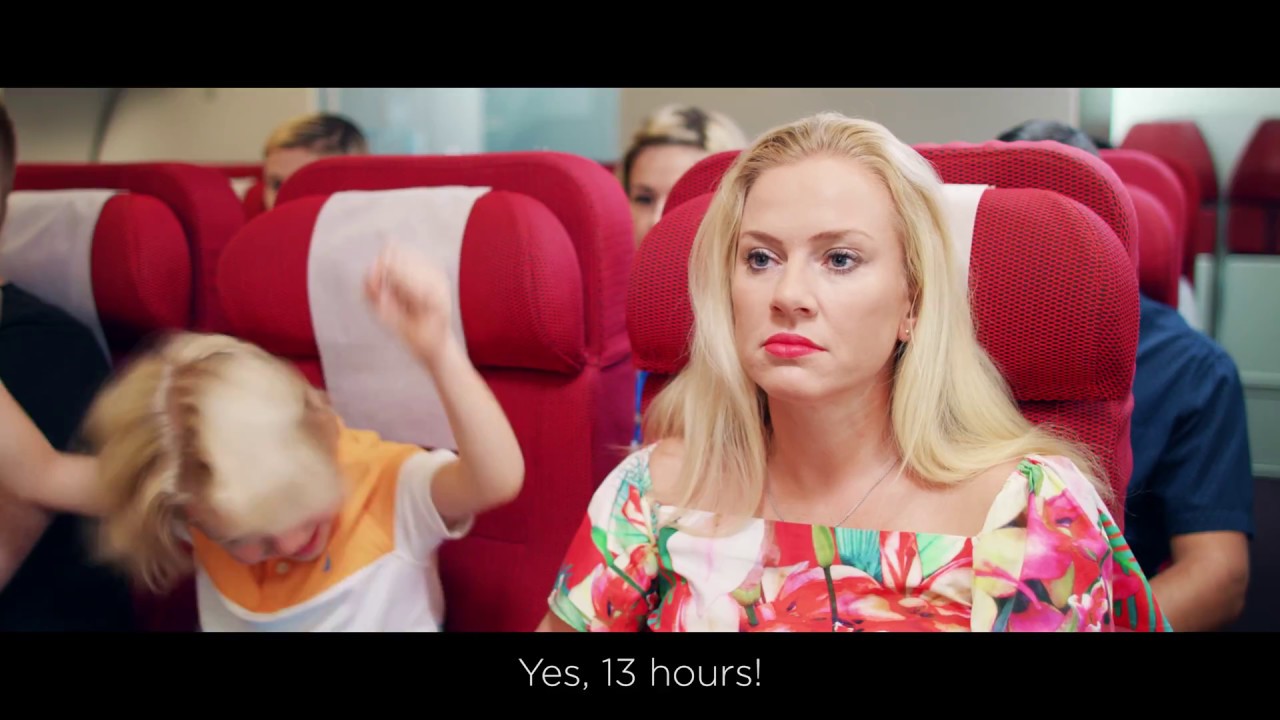 Flying with kids | Virgin Atlantic
You need to book meals for children separately
Please remember: Children's meals won't be booked automatically, and you'll need to order them online at least 24 hours before you fly.
You can order a kids' meal through My booking as soon as you book your tickets, or you can call us on 0344 874 7747. Please note that meals can't be booked for lap held infants.
We've created our kids' menu with the fussiest child in mind, so it includes a variety of familiar dishes that are sure to tickle their tastebuds. It's designed for children who are aged from 12 months to 12 years old and have their own seat. The meal includes things like ice cream, jam sandwiches, fresh fruit and dinosaur pasta to add some fun to in-flight mealtimes.
The meals are nut friendly, which means that while they don't contain nuts, they're not prepared in a nut free facility so may contain nut traces.
Kids meals aren't vegetarian. If your young one is a veggie they should go for the standard vegetarian option rather than a kids meal.

The cabin crew are also regularly on hand with drinks and treats to reward good behaviour and keep your little ones refreshed.
We also offer baby meals specifically for little ones under 12 months, which include standard pureed or bottled foods (no solids).
Comfort aids and harnesses
The below devices are permitted to use for children onboard all Virgin Atlantic Aircraft.
IMPORTANT NOTE. Any other devices that are not present on the list below are not permitted on board at any time.
Infant seat belts - these will be provided by the cabin crew onboard your flight
Car seats - these must meet certain requirements. Please read the below for more information
Infant Car and Booster seats
Planning your seating
We need to make sure that each child in a car seat is supervised by a guardian aged at least 14 who is sitting right next to them. Each adult can travel with a maximum of two infants. If you've got two children in car seats, you'll need to have them either side of you.
Special assistance
If you need special support seating for disabled children, take a look at our information on support seating.
Car seats
If you're travelling in Economy or Premium, you can bring your own car seat as long as it meets the standards below and you've booked a seat for it.
Booster seats
A passenger may bring their own booster seat on board provided it can be stowed in an approved stowage for taxi, take-off and landing and is not used when the Fasten Seat Belt signs are illuminated.
Infant car seat requirements

, 1 of 1
Flying with babies
Flying with a baby doesn't need to be stressful, even if it's just the two of you flying.
Our baby-friendly cabin crew will be on hand to help throughout your flight. We offer specially designed inflight cots, we'll warm milk if you need it, and there are usually changing facilities onboard.
Your baby must be healthy and at least 48 hours old to travel with us.
Feeding your baby
If you're bringing baby food, milk or formula in your hand baggage, make sure you read about the airport security guidance on how much and what you can bring. Here's the guidance for the UK.
If you need milk warming up, just let the cabin crew know and they'll be happy to do it, by warming it in hot water then leaving it to cool.
If you are travelling with an infant that does not have an assigned seat a meal will need to be requested in advance by contacting us on 0344 874 7747.
Economy and Premium sky cots
| | Boeing 747-400 | Boeing 787-9 and Airbus A330 |
| --- | --- | --- |
| Dimensions | 35cm wide x 21cm deep x 74cm long (13.8" wide x 8.3" deep x 29" long) | 28.6cm wide x 72.7cm long (11.25" wide x 28.6" long) |
| Maximium weight of baby | 9kg (19.8lb) | 11kg (24.25lb) |
| Maximium height of baby | 740mm (29") | 760mm (30") |
Upper Class sky cots
| | Boeing 787-9 and Airbus A330 |
| --- | --- |
| Dimensions | 35cm wide x 24cm deep x 76cm long (13.8" wide x 9.4" deep x 29.9" long) |
| Maximium weight of baby | 11kg (24.25lb) |
| Maximium height of baby | 750mm (29.5") |
Travelling with a pushchair and car seat
You're welcome to bring one fully collapsible pushchair and a car seat, in addition to your free checked baggage allowance.
Pushchairs can be checked in or used up until the boarding gate, after which they will be put in the hold. Once we land we'll have your pushchair ready outside the aircraft doors, whenever possible. However, at some destinations you may have to reclaim it at the baggage hall, due to local customs restrictions.
Inflight entertainment
We have plenty of options to keep everyone entertained while you're in the air. On all flights your kids can choose from movies, TV and games suitable for all ages. And if they've got their own seats, they'll have their own TVs too.

Find out what's on for kids
Some of the content might not be suitable for our youngest travellers, so we've included a parental block as part of our inflight entertainment system. For help with setting this up, just speak to a member of the cabin crew on board.

We'll also hand out KiD backpacks from all UK departing airports at the gate, which are bursting with goodies to keep the kids busy while you board and settle in.
Children flying alone
Unaccompanied minors - can children fly alone?

, 1 of 4

Organising a flight for an unaccompanied child

, 2 of 4

Unaccompanied minors travelling into, out of or via South Africa

, 3 of 4

New rules for young people travelling to the UAE

, 4 of 4