You are here on our website:
Level 4: Your current page is

The 787
The 787
Introducing our Boeing 787s
We launched our first Boeing 787 Dreamliner, 'Birthday Girl', in October 2014. We're very proud of these aircraft, which fly from London Heathrow to New York, Newark, Boston, Los Angeles, Delhi, Hong Kong and Shanghai.*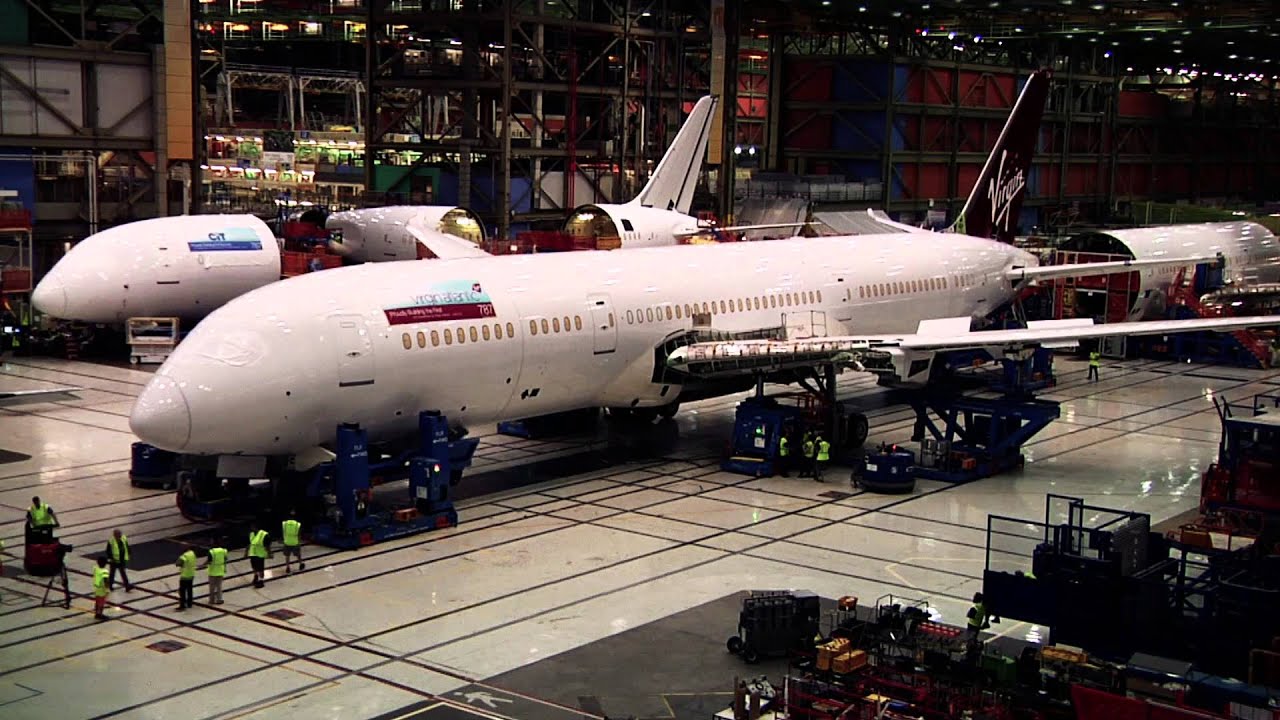 Building our first 787-9
Ever wondered what it takes to build a 787? Our friends at Boeing have finished putting together 'Birthday Girl' and they filmed the process from start to finish, so you can see how it's done.
A new level of comfort
The 787 Dreamliner is configured with 31 Upper Class, 35 Premium and 198 Economy seats.
Upper Class passengers can enjoy a new iteration of Virgin Atlantic's iconic 'Upper Class Suite' which incorporates all of the popular features of this along with some new design elements. There is a more sophisticated look using new dynamic mood lighting, especially around our new bar area. Not only is this a place to mingle and have a drink, it is also a space to eat, relax and work.
There is a refreshed Premium cabin with an even more comfortable seat design and a social space where customers can stretch their legs and mingle with other passengers - the Wander Wall.
Economy seats are best-in-class with the Recaro 3620 model with some nifty space saving solutions to give you more room to stretch out and enjoy your flight.
Get ready for an evolution in air travel
The 787s set the benchmark for in flight service and comfort - and we've got some exciting treats coming your way.
Larger, electronically lit windows
Look out at the world with a better view from every seat. The biggest windows of any commercial aircraft also have electronic lighting, dimmable at the touch of a button.
Infinity mood lighting
Board, dine, relax, sleep and play all in perfect light. Adjusting to your destination time zone, you should arrive feeling brighter and less jet lagged.
More headspace
Enjoy a greater sense of space and move around more freely thanks to higher ceilings and overhead bins.
More oxygen and moisture
Cleaner air with a lower cabin altitude means you'll feel more comfortable and refreshed.
New Upper Class bar
Step onboard to a stunning new bar backdrop. It's the perfect space to mingle, meet or simply unwind.
Online from takeoff to touchdown
All our 787s offer WiFi throughout, so you can chat, email and stay connected in the air. A charge for WiFi applies.

The comfiest Economy seat in the sky
We've fitted the best in class Economy seats. More legroom and a comfier recline, making the most of the space around them.
The Wander Wall
Our Premium cabin has even more comfortable seats and a new Wander Wall area where you can have a snack or stretch your legs.
Greater reliability
A series of innovations including as much electrical architecture as possible and enhanced aircraft health monitoring.
Friendlier to the environment
The Dreamliner is 21% more fuel efficient than other similar sized aircraft in our fleet, which means much less carbon dioxide emissions.
787 seat map

, 1 of 1
Tab Panel
Stretch out
Premium's extra space, premium service and thoughtful extras are hard to resist.
Find out about Premium

Search for flights